The lending collection is intended for use by Inner Temple staff and Library users.
These books are part of a more general, developing collection of accessible and engaging materials intended to support self-guided learning and understanding of issues related to equality, diversity and inclusion, and mental health and wellbeing, with a focus on lived experience.
SWAY: UNRAVELLING UNCONSCIOUS BIAS
PRAGYA AGARWAL
Publisher's blurb:
"Sway is a thoroughly researched and comprehensive look at unconscious bias and how it impacts day-to-day life, from job interviews to romantic relationships to saving for retirement. It covers a huge number of sensitive topics – sexism, racism, ageism, homophobia, colourism – with tact, and combines statistics with stories to paint a fuller picture and enhance understanding. Throughout, Pragya clearly delineates theories with a solid grounding in science, answering questions such as: do our roots for prejudice lie in our evolutionary past? What happens in our brains when we are biased? How has bias affected technology? If we don't know about it, are we really responsible for it?"
NATIVES: RACE & CLASS IN THE RUINS OF EMPIRE
AKALA
Publisher's blurb:
"Covering everything from the police, education and identity to politics, sexual objectification and the far right, Natives speaks directly to British denial and squeamishness when it comes to confronting issues of race and class that are at the heart of the legacy of Britain's racialised empire."

THIS IS THE CANON: DECOLONIZE YOUR BOOKSHELF IN 50 BOOKS
JOAN ANIM-ADDO, DEIDRE OSBORNE & KADIJA SESAY
"Joan Anim-Addo, Deirdre Osborne and Kadija Sesay have curated a decolonized reading list that celebrates the wide and diverse experiences of people from around the world, of all backgrounds and all races. It disrupts the all-too-often white-dominated 'required reading' collections that have become the accepted norm and highlights powerful voices and cultural perspectives that demand a place on our shelves."
LIFE ISN'T BINARY
MEG-JOHN BARKER
Publisher's blurb:
"Much of society's thinking operates in a highly rigid and binary manner; something is good or bad, right or wrong, a success or a failure, and so on. Challenging this limited way of thinking, this ground-breaking book looks at how non-binary methods of thought can be applied to all aspects of life, and offer new and greater ways of understanding ourselves and how we relate to others."

BURNT OUT
SELINA BARKER
"This book is a no-nonsense, practical guide to thriving in a fast-paced modern world, for the burnt out, bone tired and brain frazzled. It's a toolkit that will help you learn what ingredients you need in order to thrive and how to weave those ingredients into your day-to-day, no matter how busy life gets."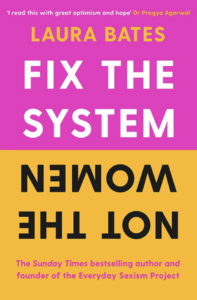 FIX THE SYSTEM, NOT THE WOMEN
LAURA BATES
"Too often, we blame women. For walking home alone at night. For not demanding a seat at the table. For not overcoming the odds that are stacked against them. 
This distracts us from the real problem: the failings and biases of a society that was not built for women."
WHITE PRIVILEGE: THE MYTH OF A POST-RACIAL SOCIETY
KALWANT BHOPAL
Publisher's blurb:
"Why and how do those from black and minority ethnic communities continue to be marginalised? Despite claims that we now live in a post-racial society, race continues to disadvantage those from black and minority ethnic backgrounds.
Drawing on topical debates and supported by empirical data, this important book examines the impact of race on wider issues of inequality and difference in society."

UNWINDING ANXIETY
DR JUDSON BREWER
"We are living through one of the most anxious periods any of us can remember. Whether facing issues as public as a pandemic and political upheaval or as personal as having kids at home fighting the urge to reach for the wine bottle every night, we are feeling overwhelmed and out of control. But in this timely book, Judson Brewer explains how to uproot anxiety at its source using brain-based techniques and small hacks accessible to anyone."

HELP!
OLIVER BURKEMAN
"What is the secret behind happiness? In an attempt to find out, Burkeman tackles a range of subjects from stress, procrastination, laughter, time management and creativity. It's a subject that has occupied some of the greatest philosophers of all time, from Aristotle to Paul McKenna. But how do we sort the good ideas from the terrible ones? Over the past five years, Oliver Burkeman has delved deep into the 'happiness industry.' Witty and thoughtprovoking, Help! doesn't claim to have solved the problem of human happiness, but it might just bring us one step closer."
TRANS BRITAIN
CHRISTINE BURNS
Publisher's blurb:
"Trans Britain chronicles this journey in the words of those who were there to witness a marginalised community grow into the visible phenomenon we recognise today: activists, film-makers, broadcasters, parents, an actress, a rock musician and a priest, among many others.

THE ARTIST'S WAY
JULIA CAMERON
"Julia Cameron guides readers in uncovering problems and pressure points that may be restricting their creative flow and offers techniques to open up opportunities for growth and self-discovery. A revolutionary programme for personal renewal, The Artist's Way will help get you back on track, rediscover your passions, and take the steps you need to change your life."

INFERNO
CATHERINE CHO
"Catherine Cho's son was three months old when she and her husband left home to introduce him to their families. Catherine herself could never have envisaged how the trip would end for her – surfacing in an involuntary psychiatric ward, separated from her husband and child, unable to understand who she was, or remember how she got there."

THE MADNESS OF GRIEF
THE REVEREND RICHARD COLES
Publisher's blurb:
"Whether it is pastoral care for the bereaved, discussions about the afterlife, or being called out to perform the last rites, death is part of the Reverend Richard Coles's life and work. But when his partner the Reverend David Coles died, shortly before Christmas in 2019, much about death took Coles by surprise. For one thing, David's death at the early age of forty-three was unexpected.
The Reverend Richard Coles's deeply personal account of life after grief will resonate, unforgettably, with anyone who has lost a loved one."

12 BIRDS TO SAVE YOUR LIFE
CHARLIE CORBETT
"Through twelve characterful birds, Charlie shows us there is joy to be found if we know where to look, and how to listen. From solitary skylarks to squabbling sparrows, he explores the place of these birds in our history, culture and landscape, noting what they look like and where you're most likely to meet them. By reconnecting with the wildlife all around him and learning to move with the rhythms of the natural world, Charlie discovered nature's powerful ability to heal."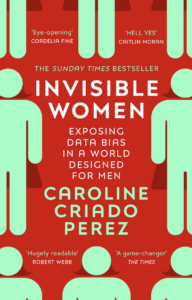 INVISIBLE WOMEN: EXPOSING DATA BIAS IN A WORLD DESIGNED FOR MEN
CAROLINE CRIADO PEREZ
"Invisible Women shows us how, in a world largely built for and by men, we are systematically ignoring half the population. It exposes the gender data gap – a gap in our knowledge that is at the root of perpetual, systemic discrimination against women, and that has created a pervasive but invisible bias with a profound effect on women's lives."
WHAT WHITE PEOPLE CAN DO NEXT: FROM ALLYSHIP TO COALITION
EMMA DABIRI
Publisher's blurb:
"In this incisive, radical and practical essay, Emma Dabiri – acclaimed author of Don't Touch My Hair – draws on years of research and personal experience to challenge us to create meaningful, lasting change."

MINDFUL DRINKING
ROSAMUND DEAN
"Journalist Rosamund Dean combines scientific expertise with practical advice in a game-changing three step guide: The Problem, The Incentive, and The Plan. By following this guide you will learn the benefits of drinking less – drinking less will improve your mood, your skin, your sex-drive, your bank balance and your body as well as reduce stress and anxiety."
F**K I THINK I'M DYING
CLAIRE EASTHAM
"Part memoir, part guide, F**k I Think I'm Dying is an intimate, honest and ultimately uplifting exploration into panic attacks. In practical thematic chapters Claire covers the crisis points where panic can hit: job interviews, social situations, attacks at night. She interviews a host of people – scientists, professors, dieticians, psychologists and people who struggle with panic – to anatomise how panic works and how it can be managed."
BIASED
JENNIFER L. EBERHARDT
Publisher's blurb:
"How do we talk about bias? How do we address racial disparities and inequities? What role do our institutions play in creating, maintaining, and magnifying those inequities? What role do we play? With a perspective that is at once scientific, investigative, and informed by personal experience, Dr. Jennifer Eberhardt offers us the language and courage we need to face one of the biggest and most troubling issues of our time. She exposes racial bias at all levels of society—in our neighborhoods, schools, workplaces, and criminal justice system. Yet she also offers us tools to address it. Eberhardt shows us how we can be vulnerable to bias but not doomed to live under its grip. Racial bias is a problem that we all have a role to play in solving."
WHY I'M NO LONGER TALKING TO WHITE PEOPLE ABOUT RACE
RENI EDDO-LODGE
Publisher's blurb:
"The book that sparked a national conversation. Exploring everything from eradicated black history to the inextricable link between class and race, Why I'm No Longer Talking to White People About Race is the essential handbook for anyone who wants to understand race relations in Britain today."

SOCIAL MOBILITY AND ITS ENEMIES
LEE ELLIOT MAJOR & STEPHEN MACHIN
"This book analyses cutting-edge research into how social mobility has changed in Britain over the years, the shifting role of schools and universities in creating a fairer future, and the key to what makes some countries and regions so much richer in opportunities, bringing a clearer understanding of what works and how we can better shape our future."
THE TRANSGENDER ISSUE
SHON FAYE
Publisher's blurb:
"Trans people in Britain today have become a culture war 'issue'. Despite making up less than one per cent of the country's population, they are the subjects of a toxic and increasingly polarized 'debate' which generates reliable controversy for newspapers and talk shows. This media frenzy conceals a simple fact: that we are having the wrong conversation, a conversation in which trans people themselves are reduced to a talking point and denied a meaningful voice."

THIS BOOK WILL CHANGE YOUR MIND ABOUT MENTAL HEALTH
NATHAN FILER
"A journey into the heartland of psychiatry. This book debunks myths, challenges assumptions and offers fresh insight into what it means to be mentally ill. And what it means to be human."

LOSING OUR MINDS: WHAT MENTAL ILLNESS REALLY IS AND WHAT IT ISN'T
LUCY FOULKES
"In this profoundly sensitive and constructive book, psychologist Lucy Foulkes argues that the crisis is one of ignorance as much as illness. Have we raised a 'snowflake' generation? Or are today's young people subjected to greater stress, exacerbated by social media, than ever before? Foulkes shows that both perspectives are useful but limited. As the effects of the pandemic take hold, the real question in need of answering is: how should we distinguish between 'normal' suffering and actual illness?"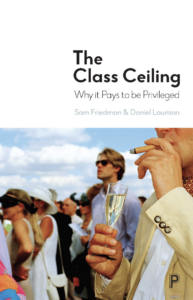 THE CLASS CEILING: WHY IT PAYS TO BE PRIVILEGED
SAM FRIEDMAN & DANIEL LAURISON
"Friedman and Laurison show that a powerful 'class pay gap' exists in Britain's elite occupations. Even when those from working-class backgrounds make it into prestigious jobs, they earn, on average, 16% less than colleagues from privileged backgrounds. But why is this the case? Drawing on 175 interviews across four case studies – television, accountancy, architecture, and acting – they explore the complex barriers facing the upwardly mobile. This is a rich, ambitious book that demands we take seriously not just the glass but also the class ceiling."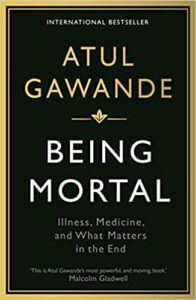 BEING MORTAL
ATUL GAWANDE
Publisher's blurb:
"For most of human history, death was a common, ever-present possibility. It didn't matter whether you were five or fifty – every day was a roll of the dice. But now, as medical advances push the boundaries of survival further each year, we have become increasingly detached from the reality of being mortal. So here is a book about the modern experience of mortality – about what it's like to get old and die, how medicine has changed this and how it hasn't, where our ideas about death have gone wrong. With his trademark mix of perceptiveness and sensitivity, Atul Gawande outlines a story that crosses the globe, as he examines his experiences as a surgeon and those of his patients and family, and learns to accept the limits of what he can do."

MAKING IS CONNECTING
DAVID GAUNTLETT
"Gauntlett argues that we are seeing a shift from a 'sit-backand-be-told culture' to a 'making-and-doing culture'. People are rejecting traditional teaching and television, and making their own learning and entertainment instead. Drawing on evidence from psychology, politics, philosophy and economics, he shows how this shift is necessary and essential for the happiness and survival of modern societies".

WHAT DEMENTIA TEACHES US ABOUT LOVE
NICCI GERRARD
"This truthful, humane book is an attempt to understand. It is filled with stories, both moving and optimistic: from those living with dementia to those planning the end of life, from the scientists unlocking the mysteries of the brain to the therapists using art and music to enrich the lives of sufferers, from the campaigners battling for greater compassion in care to the families trying to make sense of this 'incomprehensible de-creation of the self'."

SET BOUNDARIES, FIND PEACE: A GUIDE TO RECLAIMING YOURSELF
NEDRA GLOVER TAWWAB
"Set Boundaries, Find Peace presents simple-yetpowerful ways to establish healthy boundaries in all aspects of life. Rooted in the latest research and best practices used in cognitive behavioral therapy (CBT), these techniques help us identify and express our needs clearly and without apology – and unravel a root problem behind codependency, power struggles, anxiety, depression, burnout, and more."

REASONS TO STAY ALIVE
MATT HAIG
A moving, funny and joyous exploration of how to live better, love better and feel more alive, Reasons to Stay Alive is more than a memoir. It is a book about making the most of your time on earth."

MAYBE I DON'T BELONG HERE
DAVID HAREWOOD
"Maybe I Don't Belong Here is a deeply personal exploration of the duality of growing up both Black and British, recovery from crisis and a rallying cry to examine the systems and biases that continue to shape our society. In this powerful and provocative account of a life lived after psychosis, critically acclaimed actor, David Harewood, uncovers devastating family history and investigates the very real impact of racism on Black mental health."

THE NATURAL HEALTH SERVICE
ISABEL HARDMAN
"In The Natural Health Service, [Hardman] draws on her own personal experience, interviews with mental illness sufferers and psychologists, and the latest research to examine what role wildlife and exercise can play in helping anyone cope with mental illness. Straight-talking, thoroughly-researched, and compassionate, this important and often funny book will fascinate anyone touched by a mental health condition, whether themselves or through the experiences of a lovedone."

MENTAL HEALTH AND WELLBEING IN THE WORKPLACE
GILL HASSON AND DONNA BUTLER
"This comprehensive book addresses the range of issues surrounding mental health and wellbeing in work environments – providing all involved with informative and practical assistance. Authors Gill Hasson and Donna Butler examine changing workplace environment for improved wellbeing, shifting employer and employee attitudes on mental health, possible solutions to current and future challenges and more. Detailed, real-world case studies illustrate a variety of associated concerns from both employer and employee perspectives."

A TOOLKIT FOR MODERN LIFE
DR EMMA HEPBURN
"Using her trademark illustrations, Dr Hepburn (aka @thepsychologymum) shines a welcome ray of light into the neglected corners of your brain. From identifying what triggers unhappy thoughts to overcoming the fear of making mistakes, A Toolkit for Modern Life will help you to cultivate positive habits and feel more confident, happier and in tune with yourself."
BRIT(ISH): ON RACE, IDENTITY AND BELONGING
AFUA HIRSCH
Publisher's blurb:
"We are a nation in denial about our imperial past and the racism that plagues our present. Brit(ish) is Afua Hirsch's personal and provocative exploration of how this came to be – and an urgent call for change."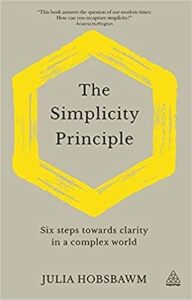 THE SIMPLICITY PRINCIPLE
JULIA HOBSBAWM
"Smartphone users experience concentration interruptions every 12 minutes of the day, there are over 250 billion emails sent every 24 hours and by 2021 the internet will have created more than 3.3 zettabytes of data. Yet complexity doesn't have to dominate, complicate or clutter our lives. Based on a hexagonal model, this book shows you that it's easy to streamline and simplify both your professional and personal lives with lessons based on the natural world."

THE TO-DO LIST AND OTHER DEBACLES
AMY JONES
"In her 2019 memoir, dubbed "as relatable as it is riotous", author Amy Jones recounts episodes from her young life – from crying in office toilets to unravelling at a hen do – in service of opening up a dialogue about the emotional hurdles faced in society by young women. A rare read that's as funny as it is moving, The To-Do List is, in Marian Keyes' words, a "perfect gateway into a discussion on mental health."

WHEN BREATH BECOMES AIR
PAUL KALANITHI
Publisher's blurb:
"When Breath Becomes Air chronicles Kalanithi's transformation from a medical student asking what makes a virtuous and meaningful life into a neurosurgeon working in the core of human identity – the brain – and finally into a patient and a new father.
Paul Kalanithi died while working on this profoundly moving book, yet his words live on as a guide to us all. When Breath Becomes Air is a life-affirming reflection on facing our mortality and on the relationship between doctor and patient, from a gifted writer who became both."
HOW TO BE AN ANTIRACIST
IBRAM X. KENDI
Publisher's blurb:
"Using his extraordinary gifts as a teacher and story-teller, Kendi helps us recognise that everyone is, at times, complicit in racism whether they realise it or not, and by describing with moving humility his own journey from racism to antiracism, he shows us how instead to be a force for good. Along the way, Kendi punctures all the myths and taboos that so often cloud our understanding, from arguments about what race is and whether racial differences exist to the complications that arise when race intersects with ethnicity, class, gender and sexuality."

LIVING WHILE BLACK
GUILAINE KINOUANI
"Living While Black empowers you to adopt radical self-care tools that improve day-to-day wellness. It teaches you how to thrive not just survive and find hope – or even joy – in the face of racial adversity. It is also an essential anti-racist resource for allies who want to do better."
THE CLAPBACK: YOUR GUIDE TO CALLING OUT RACIST STEREOTYPES
ELIJAH LAWAL
Publisher's blurb:
"The Clapback examines the evolution of the negative stereotypes towards the black community and arms you with the tools to shut them down once and for all. Taking readers on a journey through history, and providing facts and detailed research, this is an eye-opening and refreshing look at race and language."
TRANS LIKE ME
CN LESTER
Publisher's blurb:
"In this eye-opening book, CN Lester, academic and activist, takes us on a journey through some of the most pressing issues concerning the trans debate: from pronouns to Caitlyn Jenner; from feminist and LGBTQ activists, to the rise in referrals for gender variant children – all by way of insightful and moving passages about the author's own experience. Trans Like Me shows us how to strive for authenticity in a world which often seeks to limit us by way of labels."
Pushing the narrative around non-binary identities further than ever before, this powerful collection of essays represents the breadth of non-binary lives, across the boundaries of race, class, age, sexuality, faith and more."

GRIEF DEMYSTIFIED
CAROLINE LLOYD
Publisher's blurb:
"Being able to offer support to the bereaved is an important part of many frontline professions, such as nurses, teachers, funeral directors and anything in between. Yet very little theoretical information about grief has filtered down into mainstream knowledge, and what has is often misinterpreted. Giving an accessible introduction to modern day grief theory, this book is the perfect guide to grief for counsellors, anyone wishing to support the bereaved, or the griever curious to how their grief works. Debunking commonly believed myths with information on how grief can vary from person to person, advice on communicating with the bereaved and details on the different kinds of grief, this book is an essential read for anyone working with the bereaved."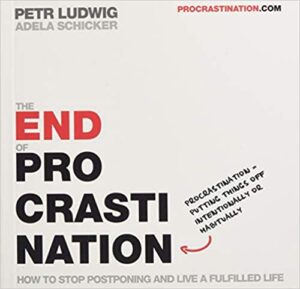 THE END OF PROCRASTINATION
PETR LUDWIG
"Take control and stop procrastinating: Even with overflowing inboxes, thousands of unread notifications, and unmet deadlines, most people still can't manage to take control of their time and stop procrastinating. The End of Procrastination tackles this ubiquitous problem head on, helping you stop putting off work and enabling you to reclaim your life."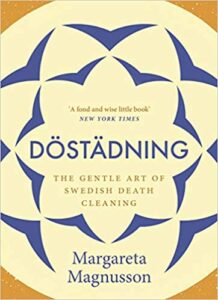 DÖSTÄDNING: THE GENTLE ART OF SWEDISH DEATH CLEANING
MARGARETA MAGNUSSON
"Döstädning, or the art of death cleaning, is a Swedish phenomenon by which the elderly and their families set their affairs in order. Whether it's sorting the family heirlooms from the junk, downsizing to a smaller place, or using a failsafe system to stop you losing essentials, death cleaning gives us the chance to make the later years of our lives as comfortable and stress-free as possible. Whatever your age, Swedish death cleaning can be used to help you declutter your life, and take stock of what's important."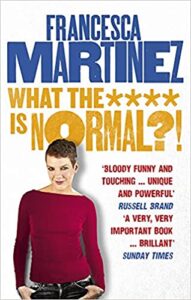 WHAT THE **** IS NORMAL?
FRANCESCA MARTINEZ
Publisher's blurb:
"If you grow up in a world where wrinkles are practically illegal, going bald is cause for a mental breakdown, and women over size zero are encouraged to shoot themselves (immediately), what the hell do you do if you're, gasp … DISABLED?
Whatever body you're born into, the pressure to be normal is everywhere. But have you ever met a normal person? What do they look like? Where do they live? What do they eat for breakfast?
And what the **** does normal mean anyway?
This is the award-winning wobbly comedian Francesca Martinez's funny, personal, and universal story of how she learned to stick two shaky fingers up to the crazy expectations of a world obsessed with being 'normal'."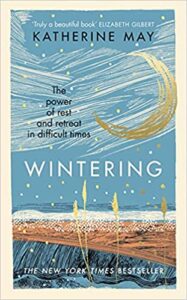 WINTERING
KATHERINE MAY
"Wintering is a poignant and comforting meditation on the fallow periods of life, times when we must retreat to care for and repair ourselves. Katherine May thoughtfully shows us how to come through these times with the wisdom of knowing that, like the seasons, our winters and summers are the ebb and flow of life."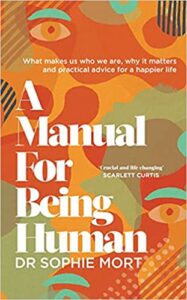 A MANUAL FOR BEING HUMAN
DR SOPHIE MORT
"In this practical and insightful guide, Dr Soph will help you to understand why we all feel anxious, stressed, insecure and down from time to time. Her three-step methodology, developed through years of experience supporting people to make genuine change in their lives, will help you to identify problems arising from past experiences and current life events, look at the patterns, bad habits and negative cycles that may be keeping you stuck, and then draws on established, proven therapeutic techniques such as mindfulness, journaling, self-compassion, grounding and breathing and relaxation techniques to provide a toolkit of go–to techniques to use any time.
THE BURNOUT SOLUTION
SIOBHAN MURRAY
"The Burnout Solution offers a step-by-step path through feelings of stress and anxiety towards renewed clarity of mind and an ability to prioritise the important things in life. Learn the beauty of saying no, rethink your boundaries, find your 'non-negotiables' and regain your power, passion and sense of purpose."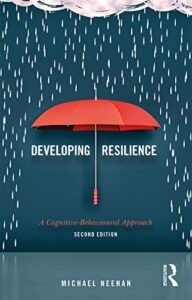 DEVELOPING RESILIENCE
MICHAEL NEENAN
"Some individuals emerge from grim experiences stronger in mind and spirit than others who suffered the same ordeal. In this updated and revised edition, Michael Neenan focuses on the meanings we attach to life's adversities in order to understand how we respond to them. This is why different people can react to the same adverse event in a variety of ways such as fighting back or crumbling. Different meanings of what constitutes resilience are also discussed and the author takes issue with the simplistic view of it as bouncing back from adversity which suggests the absence of struggle and emotional pain as well as underestimating how long the process of self-righting can sometimes take."
DIGITAL MINIMALISM
CAL NEWPORT
"Do you find yourself endlessly scrolling through social media or the news while your anxiety rises? Are you feeling frazzled after a long day of endless video calls? In this timely book, professor Cal Newport shows us how to pair back digital distractions and live a more meaningful life with less technology."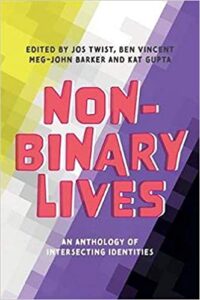 NON-BINARY LIVES
Publisher's blurb:
"Our gender identity is impacted by our personal histories; the cultures, communities and countries we are born into; and the places we go and the people we meet. But the representation of contemporary non-binary identities has been limited, until now.
Here is everything you always wanted to know about the background of the trans community, but never knew how to ask."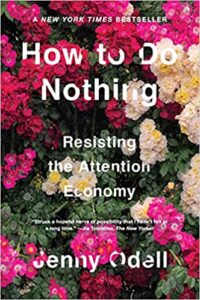 HOW TO DO NOTHING: RESISTING THE ATTENTION ECONOMY
JENNY ODELL
"Nothing is harder to do these days than nothing. We find every last minute captured, optimised, or appropriated as a financial resource for the technologies we use daily. We consume algorithmic versions of ourselves, submit our free time to numerical evaluation, and maintain personal brands in digital space. After the American presidental election of 2016, Jenny Odell felt so overstimunated and disoriented by information, misinformation, and the expressions of others, that reality itself seemed to slip away. How To Do Nothing is her action plan for resistance. Drawing on the ethos of tech culture, a background in the arts, and personal storytelling, Jenny Odell makes a powerful argument for refusal: refusal to believe that our lives are instruments to be optimised."
BLACK AND BRITISH: A FORGOTTEN HISTORY
DAVID OLUSOGA
Publisher's blurb:
"In Black and British, award-winning historian and broadcaster David Olusoga offers readers a rich and revealing exploration of the extraordinarily long relationship between the British Isles and the people of Africa. Drawing on new genetic and genealogical research, original records, expert testimony and contemporary interviews, Black and British reaches back to Roman Britain, the medieval imagination and Shakespeare's Othello."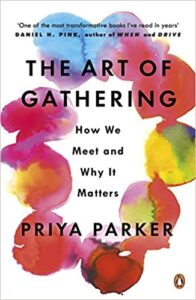 THE ART OF GATHERING
PRIYA PARKER
"Being deprived of gathering has revealed just how important it is to us; to connect with others, collaborate, share ideas and create moving, lifeaffirming experiences. At a time when coming together is more crucial than ever, Priya Parker sets forth a human-centered approach to gathering that can help everyone create meaningful, memorable experiences in their lives, large and small, for work and for play."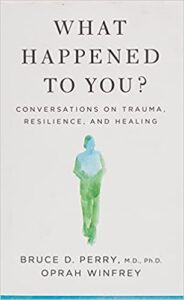 WHAT HAPPENED TO YOU?
BRUCE D. PERRY & OPRAH WINFREY
"Through wide-ranging and often deeply personal conversation, Oprah Winfrey and Dr Perry explore how what happens to us in early childhood – both good and bad – influences the people we become. They challenge us to shift from focusing on 'What's wrong with you?' or 'Why are you behaving that way?' to asking 'What happened to you?'. This simple change in perspective can open up a new and hopeful understanding for millions about why we do the things we do, why we are the way we are, providing a road map for repairing relationships, overcoming what seems insurmountable, and ultimately living better and more fulfilling lives."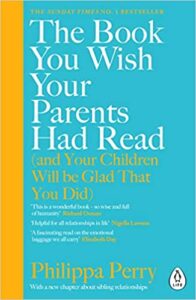 THE BOOK YOU WISH YOUR PARENTS HAD READ
PHILIPPA PERRY
"In this Sunday Times bestseller, leading psychotherapist Philippa Perry reveals the vital do's and don'ts of relationships. This is a book for us all. Whether you are interested in understanding how your upbringing has shaped you, looking to handle your child's feelings or wishing to support your partner, you will find indispensable information and realistic tips in these pages. Philippa Perry's sane, sage and judgement-free advice is an essential resource on how to have the best possible relationships with the people who matter to you most."

HOW TO BREAK UP WITH YOUR PHONE
CATHERINE PRICE
"Recent studies have shown that spending extended time on our phones affects our ability to form new memories, think deeply, focus and absorb information, and the hormones triggered every time we hear our phones buzz both add to our stress levels and are the hallmark signs of addiction. In How to Break Up with Your Phone, awardwinning science journalist Catherine Price explores the effects that our constant connectivity is having on our brains, bodies, relationships, and society at large and asks, how much time do you really want to spend on your phone?"
THE GOOD ALLY
NOVA REID
Publisher's blurb:
"The Good Ally is an urgent call to arms to become better allies against racism and provides a thoughtful approach, centering collective healing, to do so.
It is a book for those against persistent racial injustice, hungry to expand their knowledge and understanding of systemic racism in Britain and beyond. It uncovers the roots of racism and its birthplace, anti-Blackness."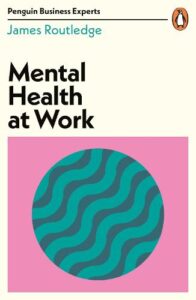 MENTAL HEALTH AT WORK
JAMES ROUTLEDGE
"Penguin Business Expert James Routledge has worked with CEOs, HR directors, managers and people at all levels on successful mental-health strategies. In this audiobook, he shares his stories, learnings and guidance. Learn how to: • Talk comfortably about mental health. • Create a more open and inclusive community in your workplace. • Implement unique changes that are authentic to you and your business. Filled with honest and relatable stories, 'conversation starters' and exclusive case studies from a diverse range of businesses and their people, Mental Health at Work will support anyone with their mental health in the workplace journey."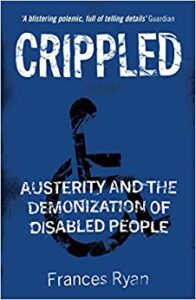 CRIPPLED
FRANCES RYAN
Publisher's blurb:
"In austerity Britain, disabled people have become the favourite target. From social care to the benefits system, politicians and media alike have made the case Britain's 12 million disabled people are a drain on the public purse. In Crippled, leading commentator Frances Ryan exposes the disturbing reality, telling the story of those most affected by this devastating regime."
ME AND WHITE SUPREMACY
LAYLA F. SAAD
Publisher's blurb:
"Me and White Supremacy shows readers how to dismantle the privilege within themselves so that they can stop (often unconsciously) inflicting damage on people of colour, and in turn, help other white people do better, too."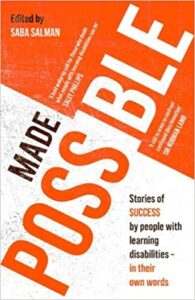 MADE POSSIBLE
SABA SALMAN
Publisher's blurb:
"Success is a crucial part of being human. But what if society thought success and aspiration didn't apply to you? There are 1.5 million people with learning disabilities in the UK today but our media and our politicians barely pay them lip service. When learning-disabled people do get a mention they are often presented as a burden on the state or objects of pity, but rarely invited to speak for themselves. Made Possible is a powerful, one-of-a-kind anthology that challenges the dominant narratives and shatters these lazy stereotypes. It presents the authentic experiences of a range of professionals from diverse backgrounds, who have all made remarkable achievements – in sport, the arts and politics, among other fields – regardless of the fact they happen to have a disability. Here they tell the stories behind their success, in their own words."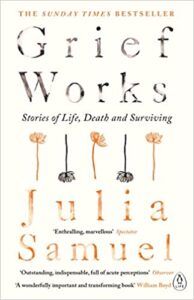 GRIEF WORKS
JULIA SAMUEL
Publisher's blurb:
"Grief Works is a compassionate guide that will inform and engage anyone who is grieving, from the 'expected' death of a parent to the sudden unexpected death of a small child, and provide clear advice for those seeking to comfort the bereaved.
With personal real-life stories of loss, and brilliantly accessible and practical advice, Grief Works will be passed down through generations as the definitive guide for anyone who has lost a loved one, and will revolutionise the way we talk about life, loss and death."
THE POWER OF PRIVILEGE: HOW WHITE PEOPLE CAN CHALLENGE RACISM
JUNE SARPONG
Publisher's blurb:
"The Power of Privilege offers practical steps and action-driven solutions so that those who have been afforded privilege can begin undoing the limiting beliefs held by society, and help build a fairer future for all."
DISABILITY: THE BASICS
TOM SHAKESPEARE
Publisher's blurb:
"Disability: The Basics is an engaging and accessible introduction to disability which explores the broad historical, social, environmental, economic and legal factors which affect the experiences of those living with an impairment or illness in contemporary society."

THE AUTHORITY GAP
MARY ANN SIEGHART
"Marshalling a wealth of data with precision and insight, and including interviews with pioneering women such as Baroness Hale, Mary Beard and Bernadine Evaristo, Mary Ann exposes unconscious bias in this fresh feminist take on how to address and counteract systemic sexism in ways that benefit us all."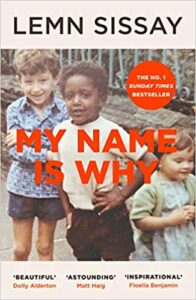 MY NAME IS WHY
LEMN SISSAY
Publisher's blurb:
"Sissay reflects on his childhood, self-expression and Britishness, and in doing so explores the institutional care system, race, family and the meaning of home. Written with all the lyricism and power you would expect from one of the nation's best-loved poets, this moving, frank and timely memoir is the result of a life spent asking questions, and a celebration of the redemptive power of creativity"

THE BOOK OF OVER-THINKING
GWENDOLINE SMITH
"Psychologist and New Zealand bestselling author Gwendoline Smith explains in clear and simple language the concepts of positive and negative overthinking, the truth about worry and how to deal with the 'thought viruses' that are holding you back."
THE WELL GARDENED MIND
SUE STUART-SMITH
"In a powerful combination of contemporary neuroscience, psychoanalysis and brilliant storytelling, The Well Gardened Mind investigates the magic that many gardeners have known for years – working with nature can radically transform our health, wellbeing and confidence."
SITTING PRETTY
REBEKAH TAUSSIG
Publisher's blurb:
"Growing up as a paralyzed girl during the 90s and early 2000s, Rebekah Taussig only saw disability depicted as something monstrous (The Hunchback of Notre Dame), inspirational (Helen Keller), or angelic (Forrest Gump). None of this felt right; and as she got older, she longed for more stories that allowed disability to be complex and ordinary, uncomfortable and fine, painful and fulfilling.
Writing about the rhythms and textures of what it means to live in a body that doesn't fit, Rebekah reflects on everything from the complications of kindness and charity, living both independently and dependently, experiencing intimacy, and how the pervasiveness of ableism in our everyday media directly translates to everyday life."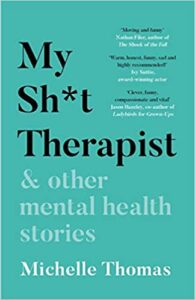 MY SH*T THERAPIST & OTHER MENTAL HEALTH STORIES
MICHELLE THOMAS
"My Sh*t Therapist is an honest, hilarious and heartrending account of living with mental illness, helping you navigate the world, care for your mind and get through sh*t jobs, medications, relationships, habits, homes and therapists."

THE BODY KEEPS THE SCORE
BESSEL VAN DER KOLK
"The effects of trauma can be devastating for sufferers, their families and future generations. Here one of the world's experts on traumatic stress offers a bold new paradigm for treatment, moving away from standard talking and drug therapies and towards an alternative approach that heals mind, brain and body."
ANTI RACIST ALLY
SOPHIE WILLIAMS
Publisher's blurb:
"[T]his pocket-sized guide is a crucial starting point for every anti-racist ally, covering complex topics at the heart of anti-racist principles. Whether you are just finding your voice, have made a start but aren't sure what to do next, or want a fresh viewpoint, Anti-Racist Ally introduces and explains the language of change and shows you how to challenge the system, beginning with yourself. Sophie reminds you that this is a learning process, which means facing difficult truths, becoming uncomfortable, and working through the embarrassment and discomfort. "
HOW TO BUILD A HEALTHY BRAIN
KIMBERLEY WILSON
"How to Build a Healthy Brain is here to help. Written by a passionate advocate for the importance of mental health, Chartered Psychologist Kimberley Wilson draws on the latest research to give practical, holistic advice on how you can protect your brain health by making simple lifestyle choices. With chapters on Sleep, Nutrition, Exercise and Meditation, Kimberley has written an empowering guide to help you look after both your physical and mental wellbeing"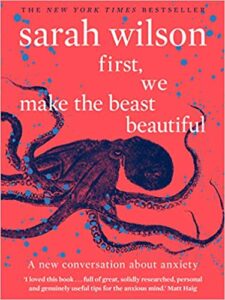 FIRST, WE MAKE THE BEAST BEAUTIFUL
SARAH WILSON
"What if we could view anxiety not as a problem, but as something good – maybe even something beautiful? This is the question at the centre of Sarah Wilson's moving 2017 book, First, We Make the Beast Beautiful: A New Story About Anxiety. Having lived through a number of anxiety's worse symptoms – OCD, bipolar, and a number of suicide attempts – Wilson set off on a seven-year journey around the world to find the answer. The resulting book is a bighearted read for anyone who has anxiety or loves someone who does."
DISABILITY VISIBILITY
ALICE WONG (ed.)
Publisher's blurb:
"Activist Alice Wong brings together an urgent, galvanizing collection of personal essays by disabled people in the 21st century.
From Harriet McBryde Johnson's account of her famous debate with Princeton philosopher Peter Singer over her own personhood, to original pieces by up-and-coming authors like Keah Brown and Haben Girma; from blog posts, manifestos, eulogies, testimonies to Congress, and beyond: this anthology gives a glimpse of the vast richness and complexity of the disabled experience, highlighting the passions, talents, and everyday lives of this community. It invites readers to question their own assumptions and understandings. It celebrates and documents disability culture in the now. It looks to the future and past with hope and love."
The lending collection is available to Inner Temple staff and Library users.
Books are available in the Inner Temple Library and can be borrowed for up to 3 weeks.
Any queries can be sent to lendingcollection@innertemple.org.uk