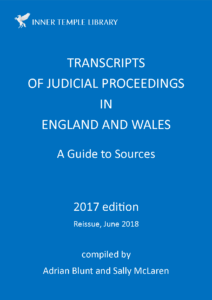 The Inner Temple Library's 2017 guide to sources of transcripts was intended primarily for libraries and information service staff who may need to obtain, or assist others to obtain, transcripts of proceedings in the courts and tribunals of England and Wales.
Apart from general guidance, detailed information on the transcript content of major subscription-based internet services, such as Lexis, vLex and Westlaw, is not included.
In most cases the service providers included in the guide were consulted directly in 2017 in order to ensure that the information given about their services was as accurate as possible.
To order your free copy please contact transcripts@innertemple.org.uk