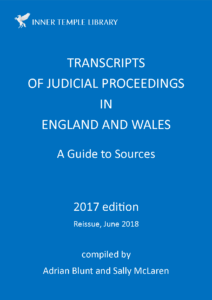 The Inner Temple Library's guide to sources of transcripts is intended primarily for libraries and information service staff who may need to obtain, or assist others to obtain, transcripts of proceedings in the courts and tribunals of England and Wales.
The 2017 edition supersedes the previous edition, which was published in 2011. While the basic arrangement remains unchanged, all existing entries have been checked and brought up to date, new courts and tribunals created since 2011 have been added, both the content and the layout of entries have been enhanced, and general information provided in the introduction and the appendices has been significantly expanded. Changes introduced to HM Courts and Tribunals Service's transcription service in 2017 are also covered.
Some further limited updating has been undertaken for the Reissue of June 2018. The latest versions of the HMCTS form EX107 and guidance notes (both of them recently amended and expanded) are now included; the procedure for obtaining transcripts of hearings at the Royal Courts of Justice and at some other London courts has been clarified; and some recent name changes affecting the High Court have been incorporated.
Apart from general guidance, detailed information on the transcript content of major subscription-based internet services, such as Justis, Lexis and Westlaw, is not included.
In most cases the service providers included in the guide were consulted directly in order to ensure that the information given about their services is as accurate as possible.
To order your free copy please contact transcripts@innertemple.org.uk