The online catalogue includes the Library's entire legal collection and most of the non-law collections. You can search our catalogue (and the catalogues of the other three Inn Libraries) at www.innertemplelibrary.org/external.html
A list of the Law Reports and Journals Currently Received by the four Inn Libraries is also available.
How to use the Catalogue
To search the catalogue, simply type in a word or phrase (it could be the author's name, a book title, a subject, or the name of a journal or series) and then click on Search.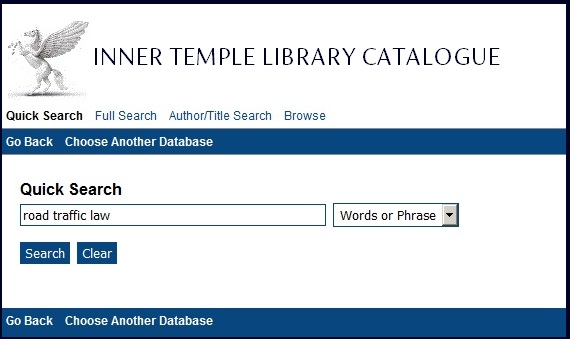 A list of search results will display, in date order, with the most recent first.
The title of each item in the list is a link to more detailed information.
To do a more in-depth search, you can choose Author/Title Search, or Full Search.
To print items from your list of search results, just tick the box next to the individual items, and then click on Print Saved Records.
To search the catalogues of the other Inns of Court Libraries, click on Choose Another Database.
Useful Tip
You can use $ to truncate words, e.g. insur$ will find insurance, insured, insurer, insurers, etc